Insights
Celebrating 2020 Nelson Scholarship Winners
March 2021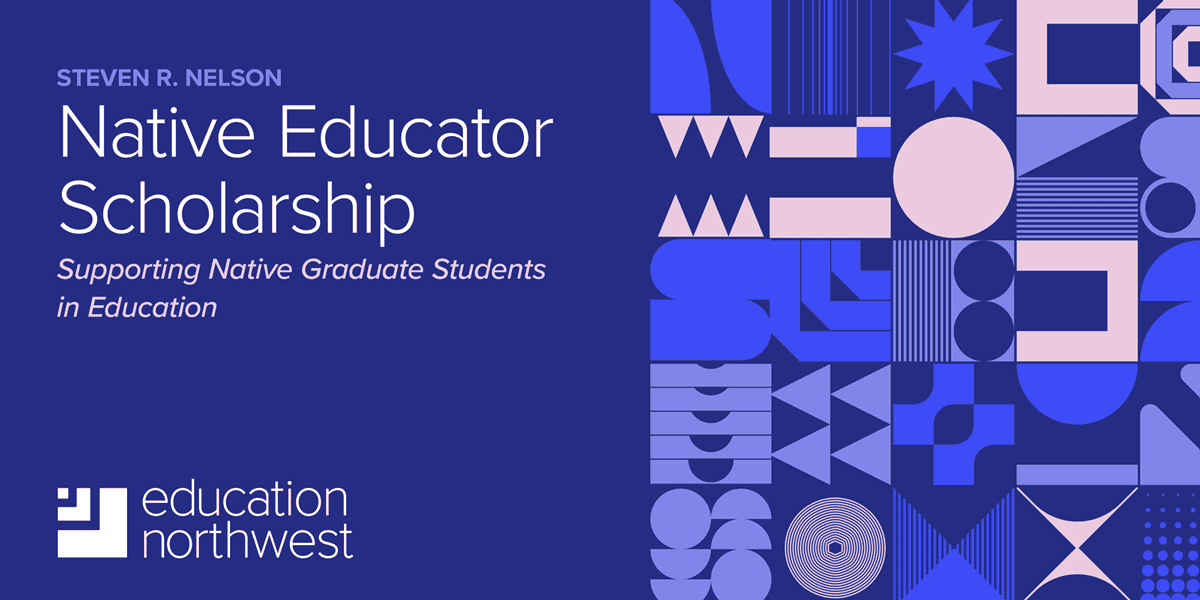 Every year, the Steven R. Nelson Native Educator Scholarship Program recognizes and supports Native students in the Northwest who are pursuing a master's degree in education policy, leadership, research, or related fields. Education Northwest is honored to lift up these emerging leaders as part of our work supporting Native education.
In 2020, three students received the Nelson Scholarship: Karol Dixon, Karen Elliott, and Christina Rubidoux. You can read more about Karen and Christina below. (Karol, who was unavailable for an interview, is pursuing a master of arts in teaching.) Congratulations to all three honorees!
Karen Elliott
Karen Elliott (Tlingit and Haida) has a vision for Native youth: She wants to see all students graduate from high school and attend college.
For more than 15 years, Karen pursued this vision as an advocate for Native students. When her own children were enrolled in Seattle Public Schools, she served on a parent advisory committee. This was followed by service as a volunteer and staff member at various organizations, including the Urban Native Education Alliance and the United Indians of All Tribes Foundation.
These experiences led to a realization: It was time to follow her own advice.
"I kept pushing Native youth to go to college, so I decided that I needed to go back," Karen said. "If I'm talking the talk, I have to walk the walk. So, here I am!"
Earlier this year, Karen earned her bachelor's degree in American Indian studies with a minor in education from the University of Washington. This fall, she returned to the university to pursue a master's degree in education policy. Through these programs, Karen adds theoretical expertise to the wealth of community knowledge and personal experience she gained while working with Native families and children. This invaluable combination of theory and practice will help her one day develop meaningful, community-based policies that protect and expand Native students' educational rights and opportunities.
In addition to her studies, Karen continues to support Native youth through the Riverways Education Partnerships program. Housed at the University of Washington, the program connects undergraduate student volunteers with opportunities to mentor and tutor Native youth. While Riverways has deep connections with rural tribal communities in Washington, it historically has reached fewer urban Native students. That's where Karen plays a key role: She is building partnerships with Title VI directors at local schools to expand Riverways' services within the Seattle metro region. Uniting federal education policy and practical student services, the role allows Karen to connect her academic and professional interests.
After she earns her master's degree, Karen is considering a doctoral program in educational leadership. She hopes to conduct research that will further illuminate the challenges and opportunities facing American Indian and Alaska Native students, many of which she has experienced in her own life or witnessed through her advocacy work in the community. Her areas of interest include expanding language revitalization, interrupting the school-to-prison pipeline, and reducing dropout rates. Whatever she does next, one thing is clear: Karen will continue to uplift Native youth and make sure they succeed—no matter what they choose to pursue.
"I want to see Native youth as leaders in their schools. I want to see them be president of their student body, or a band leader, a football leader, a cheerleader—whatever it is that they have the strength to lead," she said. "It's time."
Christina Rubidoux
Supporting and empowering students has been a consistent theme throughout Christina Rubidoux's career.
After earning a bachelor's degree in applied psychology from the Oregon Institute of Technology (OIT), she worked as a student success representative at Klamath Community College, the GED program facilitator at Chiloquin High School (CHS), an academic specialist at OIT, and a counselor at CHS.
In her current role, she builds on more than a decade of professional experience as a student in Oregon State University's Master of Counseling program.
Rubidoux, a member of the Klamath Tribes, is focusing on school counseling in her graduate program. Her goal is to work as a counselor in Klamath County School District after she earns her master's degree.
She also wants to support families that have had a negative experience interacting with the K–12 education system.
"I want to be a changemaker by creating a personal connection, advocating when necessary, and confronting prejudiced beliefs held by individuals and applied systematically," Rubidoux said.
Further, she seeks to provide Native students with a safe environment in which they feel appreciated and respected, with the goal of fostering self-efficacy and ultimately having a positive impact on both her students and community.
"I want to work in my community and have a hands-on opportunity to collaborate with students and families," Rubidoux said. "I want to be a resource to address student needs so all students are supported to meet their full potential and become well-adjusted adults."