Literacy programs can equip young people with skills to succeed academically in all subjects, excel in the workplace, and participate meaningfully in civic life. For literacy programs to be effective, schools need strong leaders who understand the science of reading, prioritize collaboration and equity, and can establish a shared community vision for the work.
Literacy Leadership Training
Through our literacy leadership trainings, educators build the capacity to implement powerful literacy programs. Our trainings draw on decades of research to deliver job-embedded, ongoing, relevant, and content-driven professional development. We incorporate participants' personal experiences and explore how educators can adapt each strategy to their unique contexts.

Our model involves collective learning, communities of practice, and coaching. All three elements work in concert with each other to increase the collective capacity of leaders to improve instruction and student learning.
Collective Learning

Collective learning sessions introduce content knowledge and evidence-based practices.

Communities of Practice

Communities of practice topics deepen the knowledge introduced in the collective learning sessions by exploring each leader's roles, responsibilities, and expectations in their current positions and contexts.

Coaching

Coaching sessions are facilitated by our experienced leaders who excel at bridging research and practice. These are shoulder-to-shoulder, individualized opportunities to address actual school-based challenges.
---
Our Framework
Our trainings are guided by Education Northwest's Framework for Literacy Leadership Development. The framework is grounded in empirical research and specifically designed to address the implementation of literacy initiatives in diverse contexts.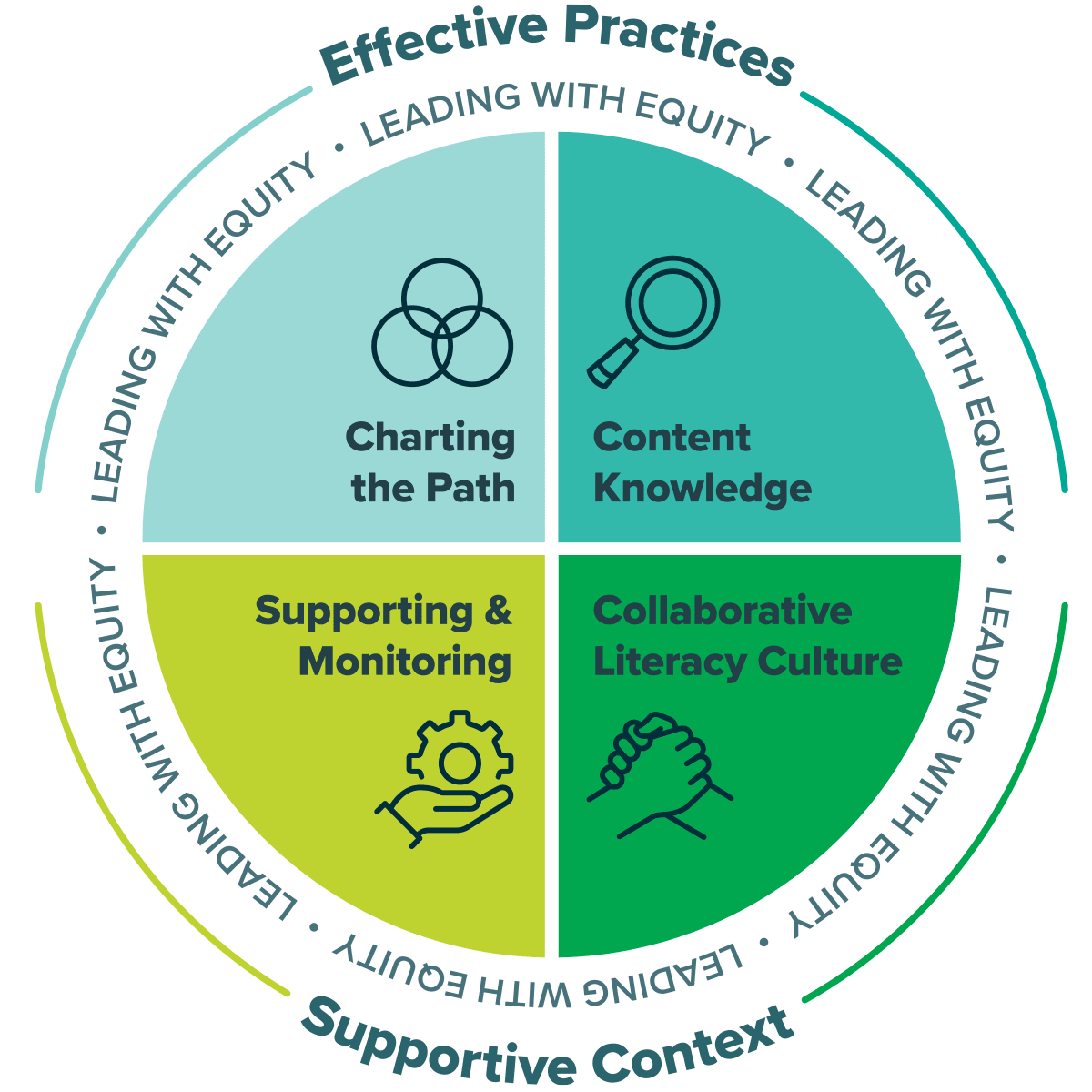 Facilitate the development, articulation, implementation, and stewardship of a shared vision for literacy
Establish an effective literacy leadership team
Empower staff to make equity-based literacy decisions to ensure inclusions and access
Understand the science of reading and its application in specific contexts
Understand the literacy practices that should and should not be present in the classroom
Ensure practices, resources, and programs meet students' unique language needs (e.g., multilingual learners)
Collaborative Literacy Culture
Nurture a school literacy culture conducive to professional growth and learning for all students
Collaborate with families and other community members to support student success
Promote schoolwide culturally responsive practices
Monitor the literacy environment and make data-driven decisions for effective core literacy instruction and multitiered support
Support the implementation of valid, reliable assessment structures to identify and address students needs
---
Education Northwest's Literacy Leadership Academy gave me vital background information for leading the science of reading initiative in my school building!
—Alaska Leader
---