Insights
Celebrating Student Leaders During Black History Month
February 2018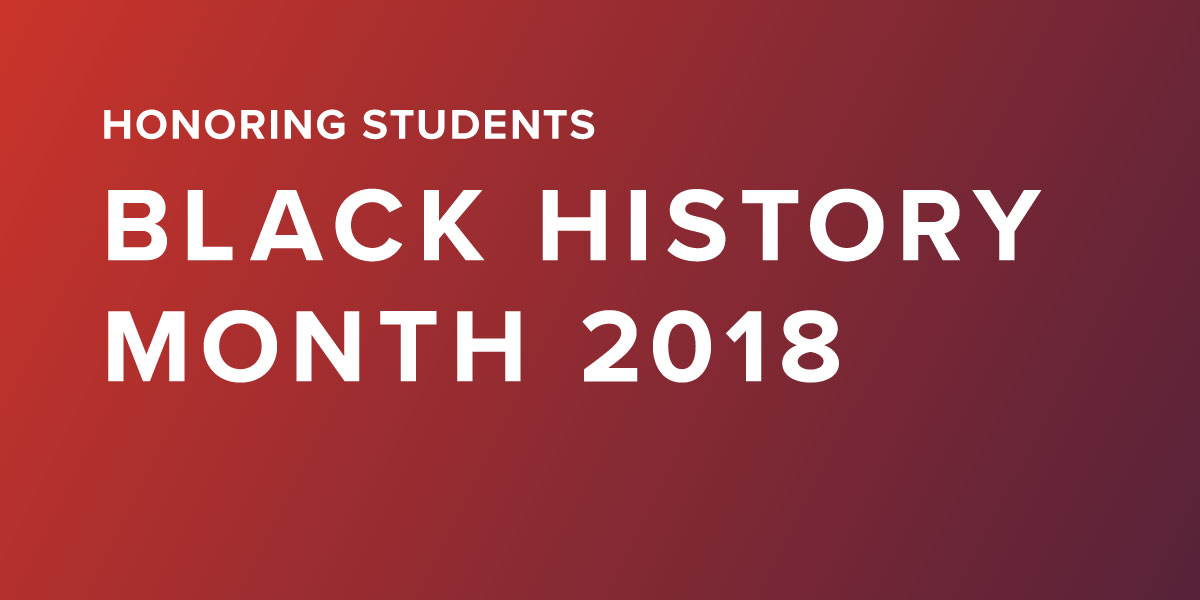 Black History Month is a celebration of achievements by African Americans and a time for recognizing their role in U.S. history. For 2018, Education Northwest is taking an opportunity to look at Black History Month through the lens of the future by honoring six outstanding student leaders from across the Pacific Northwest.
Join us in honoring Meshayla Cox, University of Montana; Shyairra Dodd, Pacific University; Trenton Joiner, Oregon State University; Nile Morris, University of Alaska Anchorage; Fethawit Musye, University of Washington; and George Ngalamulume, University of Idaho.
Meshayla Cox, University of Montana
"Learning more about the history of my people has helped me understand and accept my own identity as a black woman. African American History has inspired me to take action against racial injustices."
Meshayla Cox is a senior studying Spanish and African American studies. She coordinates the U of M's student involvement network, leads an advocacy organization and serves as president of the third-oldest Black Student Union in the United States.
"I enjoy using my positions on campus to spread knowledge and foster dialogue about social inequalities," she says. "I hope to continue educating myself and others on issues of racial injustice."
Meshayla Cox and other Montana students are featured in this article on the black experience at school in the Montana Kaimin.
Shyairra Dodd, Pacific University, Oregon
Knowing that there were figures in history who persisted to ensure my own advancement makes me push through in the hope that I can change the outcomes of future generations of African Americans.
Shyairra Dodd is a senior at majoring in biology and the president of Pacific's Black Student Union. After college, she hopes to become a pediatrician serving underprivileged communities.
She sees her grandmothers as her role models. "The matriarchs of my family have been through so many historically significant struggles," she says. "The fact that they are able to smile today is a testament of their strong will."
Trenton Joiner, Oregon State University
My opportunities, struggles, and self-image are directly influenced by the people that came before me who went through unimaginable pain and unparalleled triumphs so that I may have the opportunity to create the best possible life for myself and people that come after me.
Trenton Joiner is a bioengineering and kinesiology major from Charlotte, North Carolina, who plans to pursue a career in regenerative medicine and prosthetics.
"My father is my role model because he taught me what it means to be a proud black man," he says. Trenton credits his parents for giving him his work ethic and core values of focus, discipline, faith and integrity. "I owe all of my accomplishments and the essence of the person I am to the sacrifices that my parents have made to propel me forward."
Nile Morris, University of Alaska Anchorage
If we are to continue to develop a greater understanding of the nature of reality, comprehensive education cannot be reserved for the few. Our K–12 and college institutions need to be of the highest quality. As a society we need to prioritize education equality for future generations.
Nile Morris is the board secretary of the university's Planned Parenthood Generation Action chapter, vice president of the Black Student Union and president elect of the Society of Inclusion and Equality. In his free time, he registers people to vote, volunteers and manages a radio program. He is studying natural sciences.
"For me, role models are revealed through the practices they cultivate," he says, "practices like forgiveness; remaining poised in the face of discouragement; and the willingness to exercise the ability to listen, understand and encourage others."
Nile Morris talks more about his experiences—and yoga—in this profile from Alaska Public Media.
Fethawit Musye, University of Washington
I grew up seeing my parents give back to the community around them with the little they had. Seeing how much my parents made an impact in our own community inspires me to ask myself, 'What am I doing every day to make a difference in someone else life?'
Fethawit Musye is a junior studying marketing and information systems, a child of Eritrean immigrants and a first-generation college student.
"I came into college knowing that I wanted to create more opportunity and access for my community," she says. "Once I graduate, I aspire to enter the technology industry and work not only with product marketing and branding but also in creating access for more people of color to enter tech."
George Ngalamulume, University of Idaho
My role model is my mom, who sacrificed so much for our family to be where we are now. She never finished school because education in impoverished countries like Congo isn't easy to attain. My mom has always pushed my siblings and me past our limits to take advantage of the opportunities we have here in the states through the education system.
George Ngalamulume grew up in the inner cities of Zambia and is now president of the university's Black Student Union. He is completing his pre-med and biological sciences courses.
"Learning about our roots and what our people did, practiced and are still doing gives us a sense of identity on who we are," he says. "I am proud of being black, and the history we have is rich in so many ways."
Articles about George Ngalamulume and his brother Patrick and their experiences are available through Marketplace and the University of Idaho website.