Insights
The Language House: Supporting the Burns Paiute Tribe's Preschool Language Immersion Program
May 2023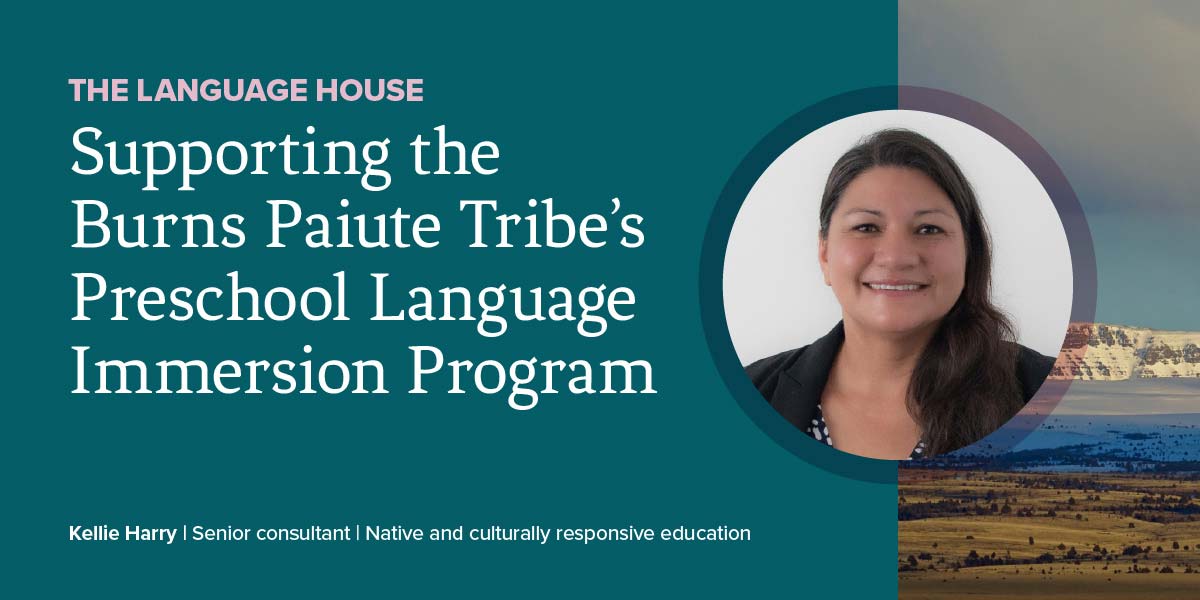 For many American Indian Tribes, language revitalization is a matter of extreme urgency. According to an American Communities Survey conducted by the U.S. Census Bureau, 169 Native North American languages are still in use. Most of those languages have less than 2,000 fluent speakers, and most of those speakers are 65 years old or older.
One such language is Wadatika, a dialect of Northern Paiute. Historically, the Northern Paiute Tribe consisted of many individual bands, whose collective homeland covered more than 5,000 square miles, including parts of Idaho, Oregon, Nevada, and California. One of these bands is the Wadatika, and its descendants make up a majority of the Burns Paiute Tribe, a federally recognized Tribe in Eastern Oregon.
Language is the most fundamental way that cultural and traditional information is communicated, preserved, and practiced. Our language holds an unbreakable bond with traditional tribal knowledge.
—Vision statement for the Burns Paiute Tribe's Language House
The Tribe re-established the Wadatika Neme Yaduan Nobi (Language House) in 2014 as a central location to conduct all its language revitalization efforts. The heart and soul of the Language House is the Tehzi Tuaki Tehsutabe'I (TTT), a preschool language immersion program that serves 3- to 5-year-old students. In 2022–23 the Tribe contracted with Education Northwest to develop a curriculum outline for both the classroom units and the adult language advocate units that aligned Creative Curriculum learning objectives with the immersion program's language and cultural learning objectives. Additionally, Education Northwest provided professional development on culturally responsive best practices for the language teachers and technical assistance services in support of the program.
Co-creating the Work
Kellie Harry, a senior consultant in Native and culturally responsive education at Education Northwest collaborated with Diane Teeman, the Culture and Heritage Director for the Burns Paiute Tribe, to identify a suite of services that could have the greatest impact. While TTT staff members have deep cultural knowledge and varying levels of fluency in the Wadatika language, most did not receive formal teacher training.
This is also true for adult language advocates (ALAs). These are parents who have been accepted into the Tribe's language and culture program and have committed to spending 20-plus hours per week on learning and using the Wadatika language with their preschool-aged children. Although not officially TTT staff members, ALAs are paid for their services and agree to spend some time in the TTT classroom, develop lessons and activities, and participate in weekly field trips into the community. The purpose of the ALA role is to bridge home and school instruction, thereby increasing support for—and implementation of—Wadatika language revitalization efforts throughout the Burns Paiute community.
Based on these staff and ALA needs, Harry and Teeman co-designed a service delivery plan that is culturally responsive and addresses multiple aspects of pedagogy and curriculum development.
"This was a very collaborative process," said Harry. "We listened to Tribal leaders and the TTT staff—their wants, their thought, their goals—and then co-developed a plan based on that."
Harry has worked directly with the TTT staff and ALAs throughout the 2022–23 school year, sometimes as often as three times per week, to carry out the plan. Examples of these services include:
Professional development on how to build children's kindergarten readiness skills, such as their familiarity with learning structures, routines, and cognitive strategies.
Professional development in foundational pedagogy, such as Bloom's Taxonomy, evidence-based and culturally responsive teaching strategies, and a gradual-release-of-responsibility process that promotes student autonomy.
Professional development in student engagement strategies that are aligned with Tribal cultural values and the Wadatika language.
Professional development in classroom management strategies, including how to transfer those strategies to a home learning environment.
Targeted professional development in language acquisition instructional strategies, including building students' literacy skills through sequencing.
An introduction to social and emotional learning and cooperative learning structures.
Co-development of a teacher observation tool that can be used by program managers. The tool includes four domains and was co-designed with the Tribe's Education Manager and Culture and Heritage Director.
Co-development of an ALA training series that is linked to the TTT program curriculum and incorporates Tribal cultural values.
Curriculum development for the TTT program and professional development in intentional lesson planning.
Alignment of the TTT curriculum and ALA training units to Oregon state prekindergarten standards and the Tribal cultural calendar.
Listening First
Throughout the project, Harry has taken a culturally responsive approach. "The need for cultural responsiveness is obvious when working with a Tribe in support of a Native language immersion program," said Harry, who is an enrolled member of the Pyramid Lake Paiute Tribe in Nevada. "There's really no other way to do it. The language is inseparable from the culture."
That doesn't mean it just happens, however.
"You have to be very intentional about it," said Harry. "You have to plan out exactly how you're going to incorporate Tribal values and ways of being into the training you provide and the curriculum and tools you help develop. It's hard work, and it requires a deep level of collaboration that outside experts are not always willing to engage in."
This is no less essential for a Native service provider who is coming into a Tribal community that is not their own, said Harry. "Even though I'm from a very closely related Tribe—another band of the Northern Paiute—it didn't mean I fully understood the local culture or the Tribe's needs. I still had to listen first. I still had to be willing to learn."
This approach has been greatly appreciated by the Tribe. "Kellie has been an amazing partner in this work," said Teeman. "She brings so much knowledge and expertise, but she also brings a humility and a generosity of spirit. With her support, we've made significant progress that will have a long-term impact on our ability to keep the Wadatika language alive."