Insights
Literacy Lens: Black Educators Matter
February 2023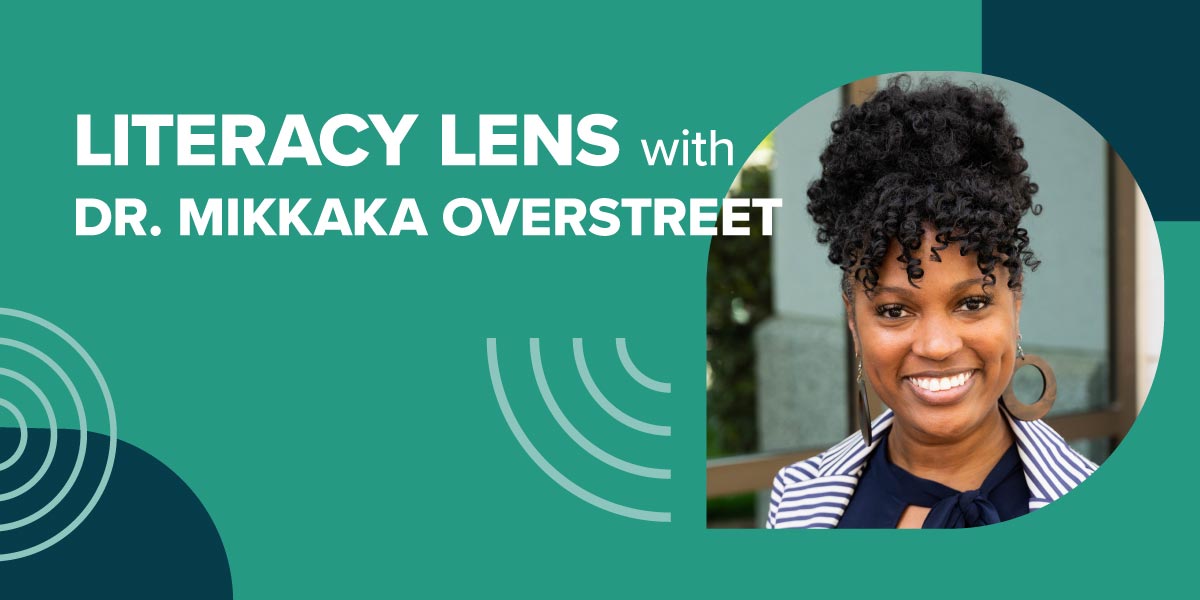 This Black History Month I've been thinking about the history and legacy of Black teachers in the United States. As a long-time educator, I have often been the only Black person in many spaces. As recently as 2021, many of the college students I taught in my teacher education classes reported that I was their first Black teacher.
As of the 2017-18 school year, about 7 percent of public school teachers and 11 percent of public school principals in the United States identified as Black. However, prior to the landmark school desegregation ruling of Brown v. Board of Education, an estimated 35 to 50 percent of teachers in the United States were Black. Teaching was a highly valued and respected profession in the Black community, and nearly half of all college-educated Black people in the south were teachers. Despite being woefully underfunded, Black schools had Black teachers who were more highly credentialed than their white counterparts and who advocated for their students, taught democratic ideals, and encouraged students to aspire to achievements beyond what was expected for Black people at the time.
So, what happened? First, during the school integration period, many formerly all-Black schools were closed and their teachers fired due to racist views about Black teachers teaching white children. Furthermore, Black administrators were often demoted because they were not allowed to be in positions of leadership at integrated and formerly all-white schools. In recent years, financial and other structural inequities have contributed to lower completion rates and lower enrollment for Black teacher candidates.
Research has shown that students benefit from having teachers that reflect their cultural background. Although white students also benefit from having teachers of color, the impacts are more significant for students of color. Black students are more likely to graduate and enroll in college if they have even one Black teacher by third grade. They're also more likely to be placed in gifted education and less likely to be suspended, expelled, or otherwise disciplined despite Black teachers having higher standards for Black students.
Barriers to Recruiting and Retaining Black Teachers
The challenges of teacher recruitment have been growing for decades, and poor working conditions during and after the pandemic have exacerbated the teacher shortage. These shortages are especially acute in high-poverty schools and schools with high populations of students of color. Researchers contend that finding qualified teachers is not the issue, rather the challenge is finding qualified educators willing to work under today's stressful conditions for the current compensation levels.
Black teachers are more likely to work in the very schools facing the most intense shortages and challenging teaching conditions. Compensation is only one of many barriers to a career in education for Black candidates. Since teacher candidates of color are less likely to complete teacher education programs, the persistent often pursue alternative licensure. However, due to inadequate training and support, their turnover rate is high. Additionally, teacher licensure exams disproportionately exclude Black, indigenous, and people of color (BIPOC) candidates.
According to U.S. Census Bureau 2010 data, the country's Hispanic population increased 43 percent between 2000 and 2010, while the white population increased a mere 1.2 percent. In that same time frame the American Indian and Alaska Native population increased by 8.6 percent, the Black population increased by 11 percent, the Asian population by 42.9 percent, Native Hawaiian and Pacific Islanders by 29.6 percent, and people considering themselves two or more races increased by 29 percent. Yet, as of the 2017-18 school year, the U.S. teaching force is still largely homogenous, with only about 20 percent of practicing teachers being people of color. Conversely, people of color make up nearly 50 percent of the student population.
The current contentious political climate has negatively impacted teachers and students in many parts of the country, but those impacts have been worse for Black teachers. According to a recent report from the Rand Corporation, Black teachers more frequently reported that limitations imposed on topics they could discuss in the classroom have impacted their choice of curriculum materials and instructional practices. As the aforementioned report states, "between January and September 2021, 24 legislatures across the United States introduced 54 separate bills intended to restrict teaching and training in K–12 schools, higher education, and state agencies and institutions." Legislation is only one avenue for restrictions, as schools have also faced an unprecedented number of book challenges and bans. The topics most often prohibited are related to race, racism, sexuality, and gender identity.
In Florida, Governor Ron DeSantis is blocking an Advanced Placement African American History course because it includes queer theory and prison abolition. A Wyoming legislator suggested schools teach "both sides" of American chattel slavery, indicating it wasn't as bad as it's been depicted, and said Black people who are "stuck" on the past are in a condition worse than enslavement. Despite the fact that one of the original founders of the project established a freedom school, Iowa has banned the use of the 1619 Project, which covers the history and legacy of slavery and racism in the United States.
In the face of all these barriers, how can we recruit and retain Black teachers?
Lessons Learned: Two Programs Focused on BIPOC Educators
Many states, districts, and schools are grappling with the challenge of recruiting teachers of color. Many are attempting to build Grow Your Own programs, which focus on recruiting, retaining, and developing BIPOC teachers in their existing communities. Recruiting within local communities, rather than from other districts or states, means teacher demographics are more likely to mirror student demographics. Sometimes these programs also address financial barriers, supporting candidates by paying licensure fees or providing tuition assistance.
Here at Education Northwest, I'm involved in two projects focused on diversifying the educator workforce. In partnership with College Spark Washington, we're facilitating communities of practice (CoPs) for an initiative called LEADER (Leaders in Education Advancing Diversity, Equity, and Racial justice). Through a two-year planning grant from LEADER, 10 regional coalitions have received funding to map community assets, analyze local needs and opportunities, and develop a workforce strategic plan.
Opportunities to dig deep into this topic are rare, and the "go slow to go fast" approach of this project is even more unique. Following the planning grant, all regional coalitions will have the opportunity to apply for grant funding to implement their workforce strategic plans. As a facilitator of the CoPs, I've witnessed the deep thinking and collective effort of the regional coalitions, and I'm optimistic about the real change this can lead to in their communities.
The Oregon Higher Education Coordinating Commission (HECC) envisions a future in which all residents—and especially those whom our systems have underserved and marginalized—benefit from the transformational power of high-quality postsecondary education and training. In partnership with HECC, Education Northwest is facilitating CoPs of teacher education programs tasked with creating and implementing equity plans focused on recruiting and retaining teacher candidates of color and thereby diversifying Oregon's teacher pipeline. Grant funding has allowed these teacher education programs to implement their equity plans through strategies such as hiring staff liaisons, creating networks of student mentors, and providing financial support to marginalized students.
Call to Action: Support Black Educators
Attracting and retaining more Black educators has a positive impact on all kids, especially Black kids. Creating a supportive environment in which Black educators thrive requires collective effort. Whether you're a Black educator or administrator or wish to be an ally for Black educators, the resources below offer advice, information, and joy. The children's book recommendations not only support a more inclusive classroom environment but also show Black students that they are valued in the curriculum and community. You never know which students in your school might become teachers and, regardless of race, their exposure to rich texts featuring Black characters is important in their development as citizens of a diverse nation. Remember that picture books are useful teaching tools at all grade levels. And, of course, this is by no means a comprehensive list.
---
Professional Books for Educators
"Start Here, Start Now: A Guide to Antibias and Antiracist Work in Your School Community" by Liz Kleinrock
"Linguistic Justice: Black Language, Literacy, Identity, and Pedagogy" by April Baker-Bell
"Literacy Is Liberation: Working Toward Justice Through Culturally Relevant Teaching" by Kimberly N. Parker
"Culturally Responsive Teaching and the Brain: Promoting Authentic Engagement and Rigor Among Culturally and Linguistically Diverse Students" by Zaretta Hammond
"Not Light, but Fire: How to Lead Meaningful Race Conversations in the Classroom" by Matthew R. Kay
"We Got This: Equity, Access, and the Quest to Be Who Our Students Need Us to Be" by Cornelius Minor
"Letting Go of Literary Whiteness: Antiracist Literature Instruction for White Students" by Carlin Borsheim-Black and Sophia Tatiana Sarigianides
Picture Books that Teach Black History
"I Am Ruby Bridges" by Ruby Bridges, illustrated by Nikkolas Smith
"Exquisite: The Poetry and Life of Gwendolyn Brooks" by Suzanne Slade, illustrated by Cozbi A. Cabrera
"Malcolm Little: The Boy Who Grew Up to Become Malcolm X" by Ilyasah Shabazz, illustrated by AG Ford
"Game Changers: The Story Of Venus and Serena Williams" by Lesa Cline-Ransome, illustrated by James E. Ransome
"Voice Of Freedom: Fannie Lou Hamer" by Carole Boston Weatherford, illustrated by Ekua Holmes
"This Is the Rope: A Story from the Great Migration" by Jacqueline Woodson, illustrated by James Ransome
"Martin's Big Words: The Life of Dr. Martin Luther King" by Doreen Rappaport, illustrated by Bryan Collier
"Lillian's Right to Vote" by Johah Winter, illustrated by Shane W. Evan
Picture Books that Center Black Joy
"Crown: An Ode to the Fresh Cut" by Derrick Barnes, illustrated by Gordon C. James
"Hair Love" by Matthew A. Cherry, illustrated by Vashti Harrison
"The Year We Learned to Fly" by Jacqueline Woodson, illustrated by Rafael López
"I Color Myself Different" by Colin Kaepernick, illustrated by Eric Wilkerson
"The Undefeated" by Kwame Alexander, illustrated by Kadir Nelson
"Honey, I Love" by Eloise Greenfield, illustrated by Jan Spivey Gilchrist
"I Am Every Good Thing" by Derrick Barnes, illustrated by Gordon C. James
"Thirteen Ways of Looking at a Black Boy" by Tony Medina, illustrated by 13 artists
"Sulwe" by Lupita Nyong'o, illustrated by Vashti Harrison
"Black Is a Rainbow Color" by Angela Joy
"My People" by Langston Hughes, illustrated by Charles R. Smith Jr.
---
Literacy Lens with Dr. Mikkaka Overstreet is a monthly blog series that offers insights on literacy and equity, along with tools and resources aimed at providing high- quality, evidence-based, and equitable literacy education.