Insights
Literacy Lens: Review, Reflect, Revise
January 2023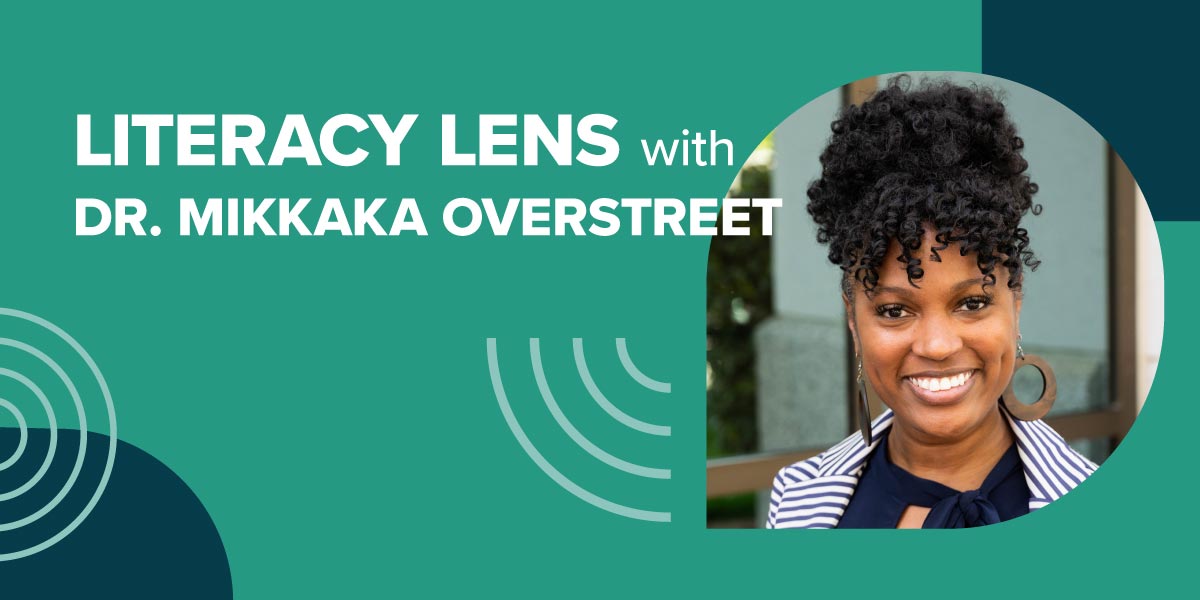 Happy 2023! If you're like me, the idea of making resolutions for a new year can be daunting. While I balk at the idea of resolutions, I love finding opportunities for reflection. I find it's easy to move through life on autopilot. Taking time to stop and reflect allows me to celebrate my wins and make changes in areas where I feel less successful.
Perhaps my reading goal of 40 books a year is going well, and I can feel good about reading so much great literature. On the other hand, my goal of writing every day may have lagged and I need to adjust—perhaps to select a different time of day when I won't be interrupted or to set a smaller goal of a 15-minute timed writing session to build the habit. Either way, I must pause and reflect on my goals if I want to attain them.
Many educators experience the same thing in their professional lives. There's so much to do each day, so many students and families to support, so many lessons to plan and assessments to administer. It's easy to look back at the end of a school year and realize that the goals set at the beginning of the year have fallen by the wayside.
The celebration of the new year is a perfect time for educators to review, reflect, and revise. After a full semester of teaching and learning, plus a brief winter break to rest and rejuvenate, we can look back on our goals for the school year with fresh eyes and monitor our progress. This gives us the opportunity to adjust and refocus on our goals for the remainder of the school year.
What Is Working and for Whom?
Too often, children who experience reading difficulties continue to lag behind their peers year after year, the gap in learning ever widening. In most school settings, these students are regularly screened, assessed, and assigned interventions in an effort to mitigate these gaps. How do we know that those interventions are effective? How often do teachers reflect on their literacy practices and strategies to determine which ones are working and for whom? If strategies aren't working for particular students, why not and what can be done differently to meet those students' needs?
Teachers often commit to practices and routines out of habit—especially when those strategies work for most students. However, even some effective, evidence-based strategies may not meet the individual needs of a diverse student body. Engaging in reflective and adaptive practice means dedicating time to review individual student-level data, identify students who need something different, and try new approaches.
School, district, and state leaders can support teachers in their efforts to review, reflect on, and revise literacy instructional practices by engaging them in continuous improvement cycles to monitor student learning. This careful process encourages schools and educators to try new approaches and regularly gauge their impact.
For example, a continuous improvement cycle may encourage school leaders to try innovative scheduling changes that allow teachers to collaborate and co-teach with others in their grade band and with special education teachers, reading specialists, and other support staff. I remember a school year in which I taught the majority of our grade 2 students who had individualized education programs, which freed up the special education teacher to co-teach with me for several hours each day. Her expertise benefited all of my students (and me!) in ways I couldn't have anticipated.
Further, leaders can build cross-school or even cross-district collaborations, allowing teachers to share ideas and strategies with peers beyond their buildings. Cultivating such relationships allows district instructional coaches to connect with teachers at multiple sites. With today's virtual meeting options, the opportunities for collaboration are truly endless. Reflective educators and leaders have more avenues than ever to collaborate, learn, and innovate to meet student needs.
Lessons Learned: Massachusetts Department of Elementary and Secondary Education
Overhauling reading instruction requires systemic changes. The Massachusetts Department of Elementary and Secondary Education (DESE) understood that when they selected Education Northwest to conduct an evaluation of their Early Grades Literacy grant. The main goal of the grant is to promote the full implementation of evidence-based, inclusive, culturally responsive early literacy instruction; data-driven decision making; and targeted small group instruction. DESE is partnering with Education Northwest to determine if they are progressing toward that goal.
While we're still in the early stages, this evaluation offers DESE and the schools involved in the grant useful data to review, reflect on, and ultimately use to guide their next steps. Rather than simply expecting the resources invested in professional learning and coaching to lead to success, DESE is ensuring that success by monitoring their progress, identifying what is working and for whom, and determining future action based on that information. The department is setting a standard for working toward literacy goals and modeling the importance of regular reflection at all levels.
Call to Action: Build Capacity of School Leaders to Effectively Implement Change
As education researcher Catherine Compton-Lilly wrote in Breaking the Silence: Recognizing the Social and Cultural Resources Students Bring to the Classroom, "certainly, no one will be able to do everything, but finding a place to start is the beginning" (Compton-Lilly 2008, p. 153). We can only do better when we know better. And we can only know better when we take the time to reflect.
Today, if you haven't done so in a while, how about taking a moment to slow down and reflect? The resources below might provide inspiration as you make and monitor literacy goals for the remainder of the school year.
---
This classic brief by education researcher Kathleen Cotton describes the careful monitoring of student learning in the classroom as one of the major factors differentiating effective schools and teachers from ineffective ones. Originally published in 1988 by Education Northwest (known then as the Northwest Regional Educational Laboratory), this brief remains popular, with thousands of downloads each year.
Wyoming is using data from its Preschool Development Grant evaluation to strengthen education systems for the state's youngest residents.
Download a visual representation that describes the stages in a lesson study cycle and see interviews with three college instructors about their experience with each stage.
The School Improvement Research Series was produced by the School Improvement Program of the Northwest Regional Educational Laboratory under a contract with the Office of Educational Research and Improvement at the U.S. Department of Education. Each School Improvement Research Series includes:
Topical syntheses of research findings and bibliographic information on special topics.
Specific, detailed examples of research-based practices that can be incorporated into school improvement efforts.
Snapshots describing other exemplary uses of effective school improvement practices.
Close monitoring and reinforcement of students' learning progress is positively related to their achievement, according to the effective schooling research.
Student achievement and behavior can be improved through frequent monitoring of student progress and positive feedback and recognition for gains made.
San Vicente Elementary School's efforts to improve student reading performance are directly related to findings from effective schooling research.
Effective leadership and decision making are instrumental to the success of school improvement projects.
---
Literacy Lens with Dr. Mikkaka Overstreet is a monthly blog series that offers insights on literacy and equity, along with tools and resources aimed at providing high- quality, evidence-based, and equitable literacy education.