Insights
Postsecondary Access Expert Leanne Davis Joins Education Northwest
September 2023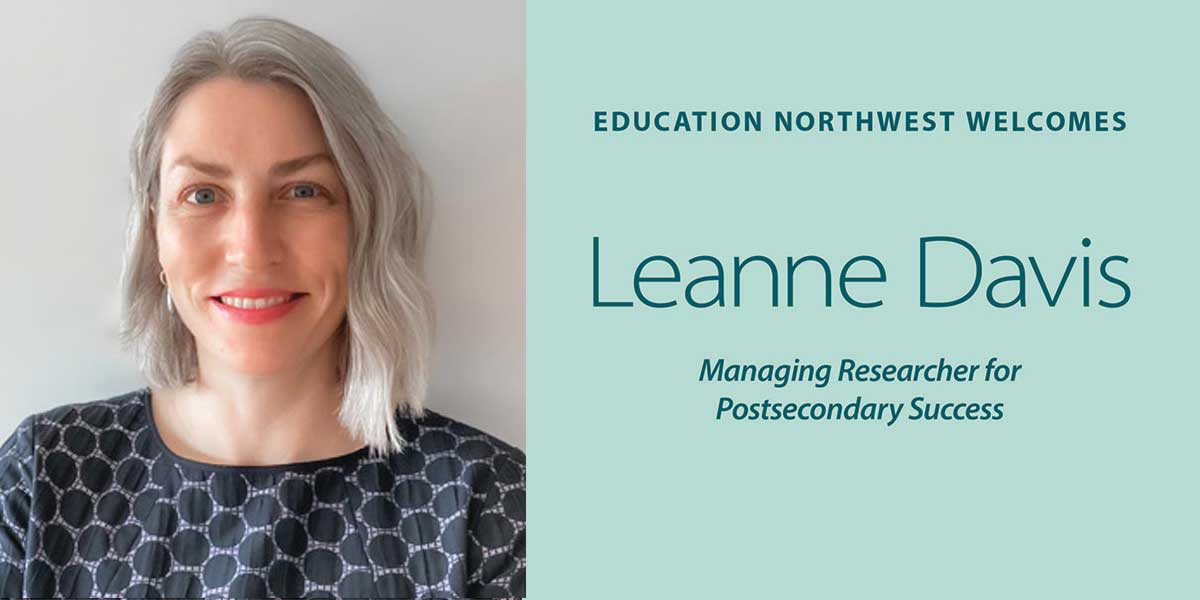 Education Northwest is thrilled to welcome Leanne Davis as a Managing Researcher, Postsecondary Success. At EDNW, Leanne looks forward to continuing her work in a "boundary-spanning role at the intersection of research, policy, and practice." Leanne comes to EDNW from the Hope Center at Temple University, where she delivered technical assistance and training to institutions and educational systems across the country. Much of that work, she says, focused on assessing students' basic needs, understanding their experiences, and using the data to build momentum for change.
I believe that everyone—no matter where they come from, what language they speak, what they believe, where they work, which neighborhood they live in, what they look like—should have equitable access to opportunity.
Before the Hope Center, Leanne worked at the Institute for Higher Education Policy in Washington, D.C., including leading the Degrees When Due project. This national initiative helped 190 institutions from 23 states identify and re-engage students who had stopped their studies before completing a degree and award them the credentials they'd earned. She also worked on Transfer Boost, a three-state effort to design and implement clear transfer affordability pathways.
"Leanne is a national leader in the postsecondary success space and will add greatly to our research and technical assistance capabilities," noted Christopher Mazzeo, the Senior Director of the Applied Research and Equitable Evaluation team at EDNW. "Her experience working with institutions, postsecondary systems, and philanthropy will prove invaluable as we further develop our work and services in this area."
Smoothing Transitions
"My personal interests center on issues of access and equity for students in transition between different systems," Leanne says, "whether that be K–12 to postsecondary, transfer between institutions, postsecondary to the workforce, or returning back to postsecondary education."
Over her years in the field, she says, she has learned that there are many reasons why students encounter difficulties in making those transitions. "I've repeatedly witnessed the overlapping layers of policy and bureaucracy that prevent institutions from meeting students' needs and students from equitably accessing and completing postsecondary education," Leanne says. "We have control over so many of these obstacles that we put in students' way. We can change the way students access and receive the support they need to navigate these transitions and successfully reach their goals."
Inspired by Fairness
Leanne's motivation to help make navigating education and its transitions easier and more equitable stems in part from her own life experience. While Leanne herself earned a college degree at the Naval Academy, military service gave her another perspective on the difficulties many students face. As a young lieutenant in a helicopter squadron, she tracked the training of enlisted personnel and saw how difficult it was for them to receive postsecondary credit for what they learned on the job. At the same time, she says, the enlisted crew were preyed upon by for-profit colleges.
This experience shaped her understanding of education and training beyond high school—the many ways students learn and demonstrate competencies, the complexity of assigning and awarding credit, and how students with the privilege of following traditional postsecondary pathways benefit most. "I was awarded these privileges because I went to college. It just felt unfair," Leanne says. "I don't like things that aren't fair."
Enhancing Equity to End Poverty
Leanne looks forward to joining EDNW's team of researchers and practitioners working to make educational systems more equitable. "We have created this situation in which education and training beyond high school is vital to be able to earn a living wage and to be able to provide for a family, to have stable housing, and be able to afford food—and having a college credential doesn't even guarantee that you're going to be able to do these things," she says, but the systems that govern people's access to that education are inequitable. "I believe that everyone—no matter where they come from, what language they speak, what they believe, where they work, which neighborhood they live in, what they look like—should have equitable access to opportunity," Leanne says. "Creating quality, affordable, accessible pathways to opportunity will help boost social mobility and break the cycles of poverty that keep individuals and communities from reaching their full potential."
Leanne cites EDNW's reputation in the field and commitment to equity as among the factors that drew her to the organization. "Over the years I've learned that research needs to be accessible to advance systemic change," she says. "The team I am joining has created great tools. And I'd love to see the field put those tools to use. I think what I'm going to contribute to the team is my ability to turn research into action, whether by working with institutions or working with states. And finding opportunities to advocate for policy changes, too."