Insights
Strategies to Support Black Students, Teachers, and Communities in Schools
February 2021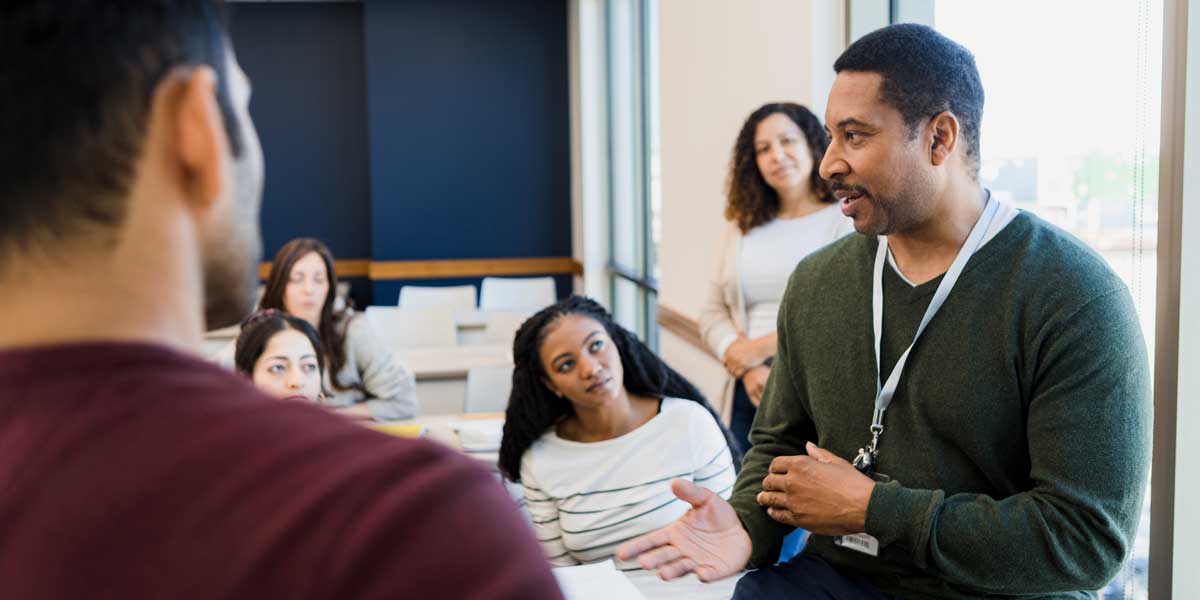 Black History Month serves as a touchpoint for reflecting on the value and rich diversity that Black students, Black educators and staff, and Black communities contribute to our schools. In the Pacific Northwest and across the nation, the ongoing leadership of Black students and Black educators and community members continues to drive innovation and inclusivity in education.
Education leaders can partner with Black communities by creating school environments that center Black voices, recognize community and student assets, and nurture those strengths to achieve success. The strategies below serve as starting points for creating and sustaining these environments in schools all year long.
Center the Voices of Black Students
All work to support Black students should be grounded in the goals, strengths, and needs that students (and their families) identify. Creating opportunities to hear from Black students not only makes space to learn about each student's unique aspirations and perspectives; engaging student voice also strengthens students' leadership, agency, academic achievement, and social and emotional health. These promising practices to sustain student voice in decision-making from the Regional Educational Laboratory Pacific offer ideas for committing to this work throughout the year.
Build Partnerships with Black Families and Caregivers
Similar to student voice, school-family-community partnerships that are built on mutual trust and respect can dramatically improve student outcomes. An evidence-based family engagement plan that respects Black parents as equal partners, applies an asset-based lens to the community, and addresses implicit biases among school staff can build trust and community support that benefit Black students.
Support Black Teachers
Hiring and retaining Black teachers is one key to improving educator diversity and enhancing student outcomes. Research has shown that Black students who are taught by Black teachers are more likely to graduate from high school and to enroll in college compared to their peers who are taught by non-Black teachers. In addition, white students show improved problem-solving, critical thinking, and creativity when they have diverse teachers.
These evidence-based strategies for recruiting, hiring, and retaining diverse teachers provide direction to build and sustain an inclusive workforce. School leaders can also consider this targeted guidance to create inclusive workplaces for Black teachers.
Increase Black Voices and Representation in Curriculum
Black people should be represented in all school subjects all year long—not just in history, and not just during February. Additionally, the curriculum should feature the great diversity among Black people to dispel stereotypes, reflect the diverse backgrounds and experiences of Black students, and recognize the contributions of diverse groups.
The Center for Racial Justice in Education developed a Black History Month guide with several resources to increase Black representation in curriculum. Educators can also find a wealth of curriculum ideas through the National Museum of African American History and Culture and Black Lives Matter at School.
Identify and Eliminate Root Causes of Institutional Barriers to Equity for Black Students, Families, and Teachers
When followed by purposeful action, equity audits can be a useful tool for supporting Black communities in schools and districts. Equity audit data highlight disproportionate student outcomes (like graduation rates) and staff representation (for example, classified versus administrative staff). Once school leaders know where disparities occur, they can begin to analyze why they occur and take action to address the root causes.
Equity audits should consider multiple layers of identity—such as race, gender, or socioeconomic status—and how those layers can intersect to increase barriers for specific groups. For example, Education Northwest recently conducted an equity audit for a district in Washington state and found disproportionately high discipline rates among Black students who were experiencing homelessness. This suggested that additional supports that target housing insecurity may be essential for promoting equity in discipline within this district.
Equip Leaders and School Staff to Build a Climate that Promotes Racial Justice
Plans to improve racial equity will have limited impact without buy-in from leadership. Two free resources that provide guidance for leaders include Education Northwest's Leadership for Equity Assessment and Development (LEAD) Tool and the Learning Policy Institute's Districts Advancing Racial Equity (DARE) Tool.
Educators and other school staff also play a crucial role in creating an environment that promotes Black student success. By using perspective-taking to build relationships with students and developing students' sense of belonging, educators can ensure that schools serve as safe, welcoming spaces that nurture Black students' growth and achievement.
Education Northwest believes that Black lives matter. We are committed to supporting racial equity within our own organization, in our partnerships with schools and districts, and for the Black students in our communities. We have extensive experience engaging in this work through equity audits, family and community engagement plans, teacher diversity initiatives, and professional development on trauma-informed practices and social and emotional learning.
To speak with Education Northwest about supporting equity initiatives in your school or organization, please contact Vicki Nishioka.