Resources
What the Research Says on Professional Learning Networks and Communities
May 2018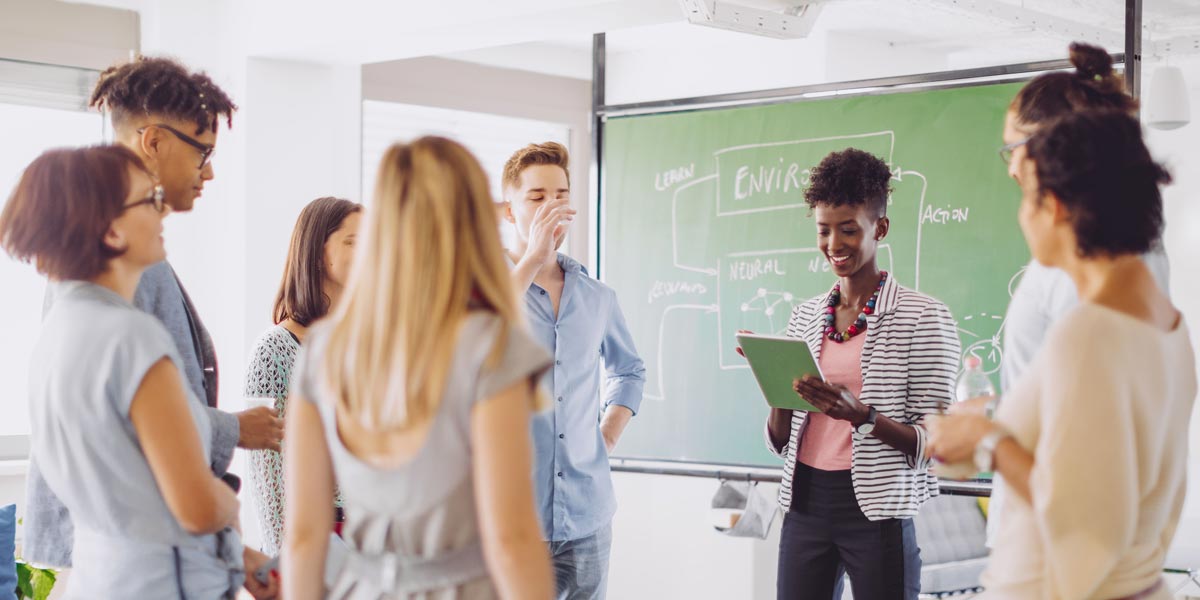 Forming educator networks as a source of professional development for educators is a strategy that continues to gain steam in the Pacific Northwest. What practices and network formats are effective in building teachers' knowledge and skills and have an impact in the classroom?
Our librarians recently compiled this list of readily available, recent studies and articles that states, districts and schools can draw from when forming new collaboratives or enhancing the effectiveness of existing ones.
This report advocates for collaborative professionalism–as compared to professional collaboration–as optimal for evolving a community of expertise and service among teachers built on collegial solidarity, candid, thoughtful feedback and collective responsibility. Drawing from fully sketched portraits of several education communities globally, the research provides designs related to curriculum, pedagogy, assessment and whole child development.
This paper seeks to advance clarity and precision around effective action in networks that deepen the learning and engagement of students and adults, enhance the professional capital of teachers and leaders and become a positive force of whole-system improvement. It distills eight essential features of effective networks by fleshing out key lessons from existing research and from emerging education network developments. It then discusses three shifts required for a new partnership between networks and central leadership to turn networks into forces of educational system renewal.
This study explores the role of knowledge access and peer influence as mechanisms by which networks may shape teacher self-efficacy. The basic premise is that peer interaction provides opportunities to access teaching relevant knowledge and thus may reduce uncertainty and that self-efficacy beliefs may be shaped by the efficacy beliefs of the peers one is directly connected to in the advice network. The results suggest that both mechanisms may shape teacher self-efficacy and that the quality of ties, rather than the quantity, may have a stronger influence on self-efficacy. These findings offer new insight into the potential ways in which social networks and collegial interaction influence teacher beliefs.
The use of networks in public education is one of many knowledge mobilization strategies utilized to promote evidence-based research into practice. However, challenges exist in the ability to mobilize knowledge through networks. This paper collects data from virtual discussions and presents findings on network structures and processes that partners were engaged in when building a network within education. The implications of this study show that building a network for successful outcomes is complex and metaphorically similar to finding the "sweet spot." It is challenging, but networks that used strategies to align structures and processes proved to achieve more success in mobilizing research to practice.
The Northwest Rural Innovation and Student Engagement (NW RISE) Network connects rural educators in the Pacific Northwest to help them succeed in the profession and overcome the challenges caused by teacher isolation. In this article from American Educator, the author takes stock of what was learned in the four years since the network was established. She also shares key takeaways to help other groups interested in creating education networks with similar goals.
After an overview of the characteristics of professional learning communities (PLCs), this manuscript presents a review of 10 American studies and one English study on the impact of PLCs on teaching practices and student learning. Although, few studies move beyond self-reports of positive impact, a small number of empirical studies explore the impact on teaching practice and student learning. The collective results of these studies suggest that well-developed PLCs have positive impact on both teaching practice and student achievement. Implications of this research and suggestions for next steps in the efforts to document the impact of PLCs on teaching and learning are included.
In recent years, many educators have turned to professional learning networks (PLNs) to grow in their craft with peers who are more accessible online because of reduced temporal and spatial constraints. While educators have cultivated PLNs, there is a dearth of research about the effects of PLNs. This manuscript reports the findings of a qualitative study that investigated PLN experiences through the analysis of survey data from 732 PreK-12 teachers. Data analysis suggests that the anytime, anywhere availability of expansive PLNs, and their capacity to respond to educators' diverse interests and needs, appear to offer possibilities for supporting the professional growth of whole teachers. These findings have implications for defining the present and future of teacher learning in a digital age.
In research on educational reform implementation, scholars have highlighted the importance of teacher collaboration in support of increased student achievement. This study examines whether teachers' knowledge exchange in social networks is related to key elements that have been associated with increased student achievement, namely teacher self-efficacy and commitment. Drawing on social capital theory, the study looks at social networks to assess whether greater access to resources is related to a greater sense of teacher efficacy and commitment. We collected survey and social network data from eight elementary schools in the Netherlands. Results suggest positive relationships between teachers' social network indicators, teacher self-efficacy, and commitment to the organization and to students. Our findings yield directions for more relationally oriented educational policy instruments.