Insights
Lessons Learned from a Career in Indian Education: A Conversation with Denise Juneau
November 2022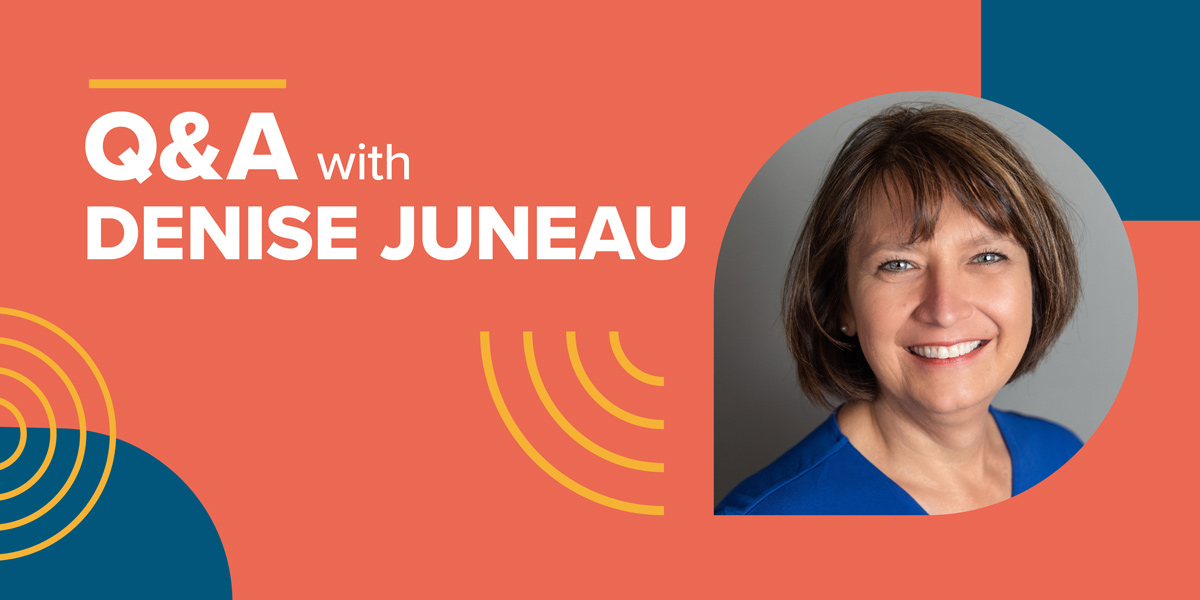 Denise Juneau is an enrolled member of the Mandan Hidatsa Tribes and a descendant of the Blackfeet Tribe and the Tlingit and Haida Tribes. She received her master's degree from the Harvard Graduate School of Education. She started her career as a teacher on the Fort Berthold Indian Reservation in North Dakota and her hometown of Browning, Montana. Later, she worked at Montana Office of Public Instruction before earning her juris doctorate degree from the University of Montana School of Law. She served as the Montana State Superintendent from 2009 to 2017 and as the Superintendent of Seattle Public Schools from 2018 to 2021. She is a senior fellow at Education Northwest.
---
Q: How do you view your role as a senior fellow at Education Northwest?
DJ: Education Northwest is investing a lot in Indian education and is looking to become a national player. We have a very strong team. So, anything I can do to help spread the word about that or to bring my expertise and passion and history of working in Indian Country, I think is a positive. That's how I see my role. My background as the former state superintendent in Montana, being the first Native woman elected to a statewide executive office at that point, running for Congress, and having a national profile—all of that lends itself to the growth we want to see happen at Education Northwest. It's about relationships and making connections and letting people know that we bring strong expertise and wisdom and experience that can help any state, Tribe, district, school, or organization grow its practice.
EdNW: What was your personal journey into Indian education?
DJ: I come from a long line of educators. I often tell people, in my house there were two non-negotiables: You went to school, and you voted. My family instilled the value of being educated and civically engaged, and so it was natural that I went into education and became a teacher.
And then one of the pivotal moments in my career came when I was able to return to my home community at Browning and bring Native literature to the high school.
I grew up in a time when there wasn't a lot of Native curriculum in school, and I wanted to change that. With my first freshman class that year, I decided I was going to teach "Fools Crow," the novel by James Welch [Blackfeet and Gros Ventre]. People told me "They won't be able to stick with that book. They won't be able to read it." But I was determined to try.
I had students who had never finished a novel, and they finished that 300-plus-page book because it reflected them, and they were deeply engaged in it. We were able to have deep discussions about their lived experience, their histories. We brought people into the classroom. We took a field trip to the site of the Baker Massacre—a real historical event that plays a role in the book—and we brought elders with us. It was an amazing cultural learning experience.
That's where the spark came from: the power of young people being able to see themselves in their classrooms, in the books they read, in the hallways they walk, in the curriculum we bring together. For me, that was a defining moment. That experience became the driving force for much of my career.
---
Q: Given that background, it seems natural that both you and your mother would end up playing a key role in the implementation of the Indian Education for All curricula in Montana. How did that come about?
DJ: My mom and Norma Bixby and a few other legislators were very involved in establishing the legal foundation for Indian Education for All through a quality education lawsuit that went all the way to the Montana State Supreme Court. Once the legal foundation was in place, my mom and other legislators pushed for the funding to implement it, which finally happened in 2005. When the funding became real and money began flowing to schools and to the state education agency, that's when things began to take off. And I happened to leave teaching and go to OPI [the Montana Office of Public Instruction] right when all that was starting to happen.
I look at that as a really powerful time in Montana. We were able to create a very dynamic Indian Education department at OPI, which for years had just been one person. And then so many people got deeply engaged in the work. We had people [from OPI] going all over the state. We created hundreds of lesson plans, in all the different content areas. We worked on standards and made sure Native people were reflected in the state standards across all curricular areas. We worked on professional development. There was this huge movement around Indian education during that time.
---
Q: How do you view the legacy of Indian Education for All now, from this vantage point in your career?
DJ: People often ask, "How did that happen there?" Because they've heard the story. They've read about it. They've met people in different education circles who talk about it. And so people are curious about how it played out. And we have a great story to tell.
In Montana, one of the first things we did was create the essential understandings regarding Montana Indians: What are the things people need to know and understand about American Indians in Montana, both historically and today? It wasn't tribally specific, but tribal people came up with it.
I think that's become kind of a template for this work across the country, because the essential understandings become the springboard for everything. Tribal people come up with the essential understandings, then you build your curriculum, your lesson plans, and your professional development. That's the strategy, those are the tactics. And so when we're out there with our experience from Montana and Education Northwest, we're able to say, "This is how it worked," and it resonates. It makes sense to people that you would build this in collaboration with the Tribes.
---
Q: What's another lesson you learned from that work?
There are many, but I'll mention four. First, you need all hands on deck. You need all the partners you can get to the table in your state: your teachers union, your state history organizations, your art museum people, your legislators. You need all the people you can find who are willing to be supportive.
Second, you start by making sure Tribal voices are at the center of what you're doing. Engaging Native educators, Tribes, making sure those voices are centered in the conversation. For example, in New Jersey, we have pulled together a committee that includes those voices, and they are able to tell their story and share their vision and wishes and dreams for what a statewide tribal curriculum might look like in their state.
Third, you can't just give teachers the curriculum and walk away. In Montana we developed hundreds of lesson plans and Tribal histories and those types of things. That was partly in response to teachers, because when we first asked them, they said, "We need stuff. We need materials and resources and lesson plans." And then when we got them stuff, they realized they needed knowledge instead. And so then we had to take a step back and say, "OK, we'll start with very strong professional development and then go from there."
And finally, we learned that people were afraid to fail. Teachers were afraid of engaging in conversations that were new to them and required this kind of deconstruction of their knowledge. They went through school learning certain things about Native people, or they talked about it at Thanksgiving or whatever. There were certain intersections with Native culture that they grew up with, certain poems they read, movies they watched, stories they learned, and they had to deconstruct that whole learning process as adults. All of a sudden, they had to confront those biases in a very real way in order to engage in this work.
We used to have a saying [at OPI] that we're going to move beyond blame, shame, and guilt in that moment and call people in rather than call them out, because it would not have been successful had we come down like a hammer looking for a nail. We needed to make sure we were lifting people up. I think there are different pathways to work with teachers, but for us, in that moment, for the movement that we were building, that was the approach we took. And it seemed to be successful. It's those types of hard-won lessons that we're able to bring to this work at Education Northwest.
---
Q: In addition to tribal curriculum efforts, what issues do you see as having real momentum right now in Native Education, across the country?
DJ: We're in a very exciting moment, both in terms of education and just in the broader culture. You look at artists, writers, TV series, actors, directors, fashion: In all these sectors of mainstream society, Natives are making powerful statements. They're involved. They're in the mix. Native writers and directors are offering different perspectives that haven't been seen for a long time. For me, that's super exciting.
As educators, that's also something we can tap into right now. When people have questions about what they're seeing, that's where Native educators can step into those spaces and fill in the blanks and use those tools to grow knowledge about Native people.
---
Q: This being Native American Heritage Month, are there some books or resources that you can recommend to educators?
DJ: For those who haven't taken the time to learn about the Indigenous people of this continent, Native American Heritage Month is a perfect opportunity. One thing I like to recommend to educators is starting with the state or even the community you live in. That's often a great way to get students engaged. So, talking about whose territory this was. You want to get tribally specific about that. And then you can bring in some resources related to that and have some deeper discussions with your students.
On a personal level, Mandy's [Mandy Smoker Broaddus] graphic novel for young adults, "Thunderous," is a pretty awesome resource to bring into the classroom, and my cousin, Laurel Goodluck, also has a new children's book called "Forever Cousins," which does a great job of exploring the relocation era—the impact of the Indian Relocation Act in the 1950s. And then I always look to Debbie Reese's website for some good information and resources. There are so many great resources out there now and so much happening. There is zero excuse for not being able to find a book by a Native author, for example, that you can use to bring those perspectives into your classroom.