Insights
Leveraging Identity and Lived Experience to Uplift Immigrant Youth
October 2023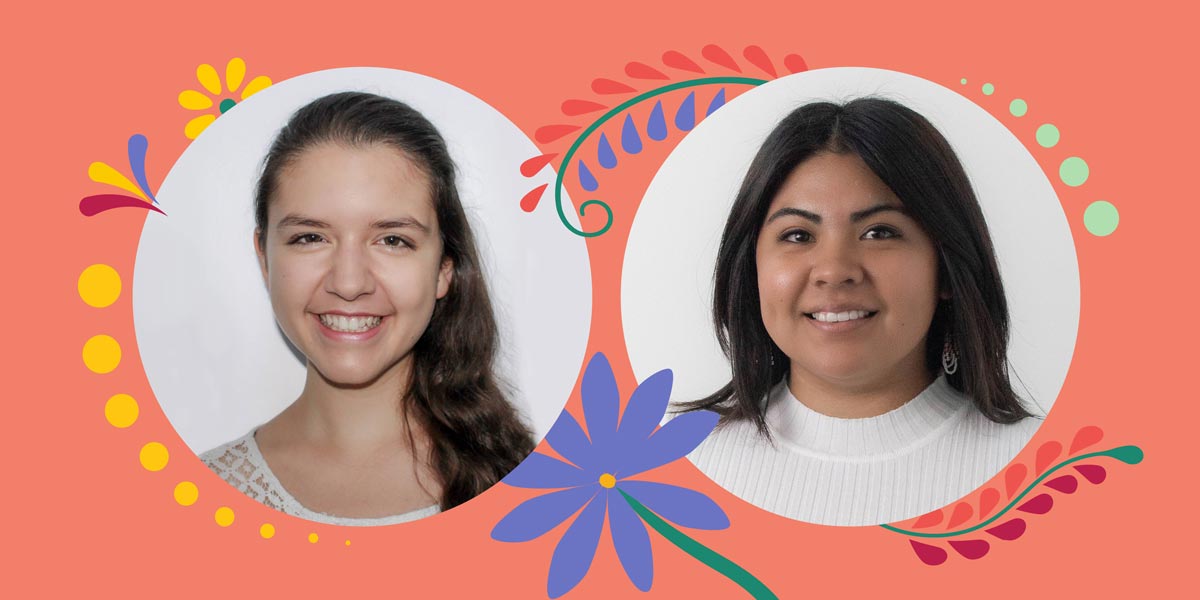 Reflections From Two Latina Researchers
Marbella Uriostegui and Camila Cigarroa Kennedy are researchers at Education Northwest with an interest in multilingual learners and immigrant youth.
In part, their shared interest stems from a shared piece of their identities: Marbella and Camila both identify as Latina.
In a recent project with the Annie E. Casey Foundation, Marbella and Camila investigated how organizations and educational institutions are supporting immigrant youths' education and career pathways in select U.S. communities. They spoke with dozens of service providers and immigrant youth who offered insight into what practices are working well and what supports are still needed. For the most part, students in the communities they studied were also Latinx.
For Latinx Heritage Month, Marbella and Camila reflected on the project and how their own identities and lived experiences informed the work. Below are key takeaways from their research as well as their personal experiences.
Recognize Diversity in Identity and Experience
Every person has unique identities and experiences that influence how they move through and make sense of the world. Recognizing that diversity can contribute to more nuanced research,more robust findings, and more relevant recommendations.
Our identities are important as researchers … It's an asset that our identities enable us to ask better research questions that get closer to other people's experiences or highlight those differences.
Take the term "Latinx:" It encompasses a vast range of identities and experiences, but it also obscures so much. For example, Marbella and Camila both identify as Latina, but their experiences differ greatly. Marbella is the daughter of parents who immigrated to California from Mexico. She grew up in a low-income, working-class household, and later became a first-generation college student and first-generation professional. Meanwhile, Camila grew up in a bicultural household in Texas. Her mom's family immigrated to the United States from Mexico many generations ago, and her parents and grandparents all experienced higher education in the United States.
Beyond family histories, Marbella and Camila carry unique intersecting identities that further influence how they view and experience the world.
"While some parts of me and my background place me at the margins, I also recognize that I have privileges—for instance, I was born in the U.S. and have a higher education degree," said Marbella.
As researchers, being aware of these intersectionalities—or one's positionality—can contribute to rich personal reflections as well as an openness to the diverse experiences of others.
Immigrant youth who participated in the Casey Foundation project also carried a broad range of experiences. Some had arrived in the United States only two or three months ago, and others were born here to parents who immigrated. Some immigrant youth had an interrupted educational history; others outperformed students who were educated in U.S. schools. Some immigrant youth had additional responsibilities, like helping provide for their families by working outside of school.
The students lived in diverse parts of the country, including various cities in Arizona and Texas. Each community has its own unique immigrant population, cultural context, and political climate—all of which shape student experiences, worldviews, and needs.
Trust—and Trusting Adults—Are Essential for Immigrant Youth
Trust is incredibly important for immigrant youth—not only for those who participate in youth-serving programs, but also those who participate in research.
"Youth are a vulnerable population, and we were especially considerate of the unique challenges that immigrant youth face," said Marbella. "In particular, we needed to consider how to protect young immigrants' identities and data. They risked disclosing personal information that could put their status in the U.S. in jeopardy and increase their chance of experiencing marginalization. 'Coming out of the shadows' and navigating when to disclose this information is not an easy process for immigrant students. In grade school I felt this fear for my parents—revealing information that could lead to my family being separated across two countries."
With this in mind, Marbella was careful to center youth safety during data collection. She first built trusting relationships with educators and service providers, then connected with students through adults they knew and trusted.
In the same way, being sensitive to immigrant youth experiences and taking time to build trust can help educators and service providers offer more relevant, effective supports.
In focus groups, students emphasized the importance of educators they trust and can confide in. One student described an experience with a school counselor who did not know the student was undocumented. For months, the counselor shared scholarship information that undocumented students cannot access. In the end, the student had to be brave and share their immigration status to finally receive resources they could use.
Schools and organizations can avoid situations like this by making sure all adults receive the right training. Many immigrant-focused service providers lead this work in their communities by offering culturally responsive, trauma-informed training to other local organizations and schools.
Affirm Culture as an Asset
When adults uplift students' cultures as an asset, it can reap positive benefits on students' sense of self, their sense of belonging, and even their career aspirations.
On a personal level, Marbella and Camila recognize the importance of affirming culture. Both credited their interest in research and evaluation to Latina professors who showed how research could be relevant for Latinx students and how knowledge production could center Latinx families. By centering the wisdom and experiences of affected communities, research can not only shed light on inequities but also inspire action to eliminate them.
Camila also recalled an early school experience bonding over food with Ms. Lopez, an elementary teacher from the same border city as her mom. But this shared cultural experience was a rarity for Camila: She primarily grew up in white-majority, English-speaking schools.
"I grew up in schools where I blended in as part of the white majority, and it didn't occur to me then how important it is for diverse languages and backgrounds to be highlighted as assets," said Camila. "I didn't know that cultural validation was something students could experience, but it is so important."
In focus groups, students mentioned the importance of connecting through shared life experiences and cultural interests, like a soccer club. Language was another critical element of culture that helped students connect with each other and with researchers.
"It was so meaningful to connect with and understand students as they explain really difficult experiences in the language they're most comfortable in," explained Camila. "It's affirming on a lot of levels to be able to have that connection with others."
Lived Experience Offers Valuable Knowledge
Traditionally, research has insisted on objectivity and neutrality, an approach that leaves subjective experiences at the door. But researchers have always been influenced by their identity and experiences—researchers with diverse identities just rarely had access or opportunity.
"It's rooted in our history," said Marbella. "Many U.S. institutions, including our education system, were not developed for or with communities of color. Rather, communities of color were actively excluded from leading work in these spaces, and research is no different. So the idea of being objective and neutral in research was not founded on a collective understanding."
Camila added, "Our identities are important as researchers. We understand that Latino identity, Hispanic identity is really nuanced. Another researcher might not think to dig deeper into a finding related to Hispanic students if they didn't have that lived experience. It's an asset that our identities enable us to ask better research questions that get closer to other people's experiences or highlight those differences."
While Marbella and Camila recognize the assets their identities bring to their work, they also acknowledge the limitations of their own experiences.
"One of my goals as a researcher is to constantly be learning and recognizing other people's expertise," said Camila. "In this project we were able to talk to many organizational leaders and students who have deep on-the-ground knowledge of the supports being offered to immigrant students and the political context of their own cities, which our team would not have had time to deeply understand on our own. We were able to honor other people's expertise and recognize them as leaders in the field. Youth voice played a part in that, too: These students are the expert in their experiences, so they should also be highlighted."
Looking Ahead: Supporting Student Success Through Youth Voice and Development
In the future, both Marbella and Camila want to engage in more projects that explore youth voice and political development. Research has shown that critical consciousness has a positive relation to students' preparation for adulthood and their academic and career development.
"Before I joined Education Northwest, I did research to measure civic engagement among high schoolers," said Camila. "That was really exciting, because we showed that developing critical consciousness was really important for students—feeling like they're in community and have self-efficacy, or power to change the future, is really powerful."
Marbella added, "My dream would be to continue investigating youth—not just Latinx youth, but youth from communities of color and other marginalized identities—and how they leverage their sociopolitical beliefs and behaviors to identify and work toward postsecondary goals. In another project, I'm evaluating youth-oriented programs, like after-school or summer programs, across California and examining how the resources offered by these programs inform diverse youths' send of responsibility to their communities and access to supports (like mentors). I see how Education Northwest's work in other areas, including projects supporting multilingual learners, can be expanded by applying a critical lens."
In the meantime, Marbella and Camila are using their findings from the Casey Foundation research project to produce a guidebook for making youth-serving programs more welcoming and supportive of immigrant youth. (Although the Casey Foundation funded the original research, the findings and conclusions in the guide were developed by Education Northwest and do not necessarily reflect the opinions of the Foundation.) The guide will be publicly available in November.