Insights
What Is Career and Technical Education, and Why Does It Matter?
February 2021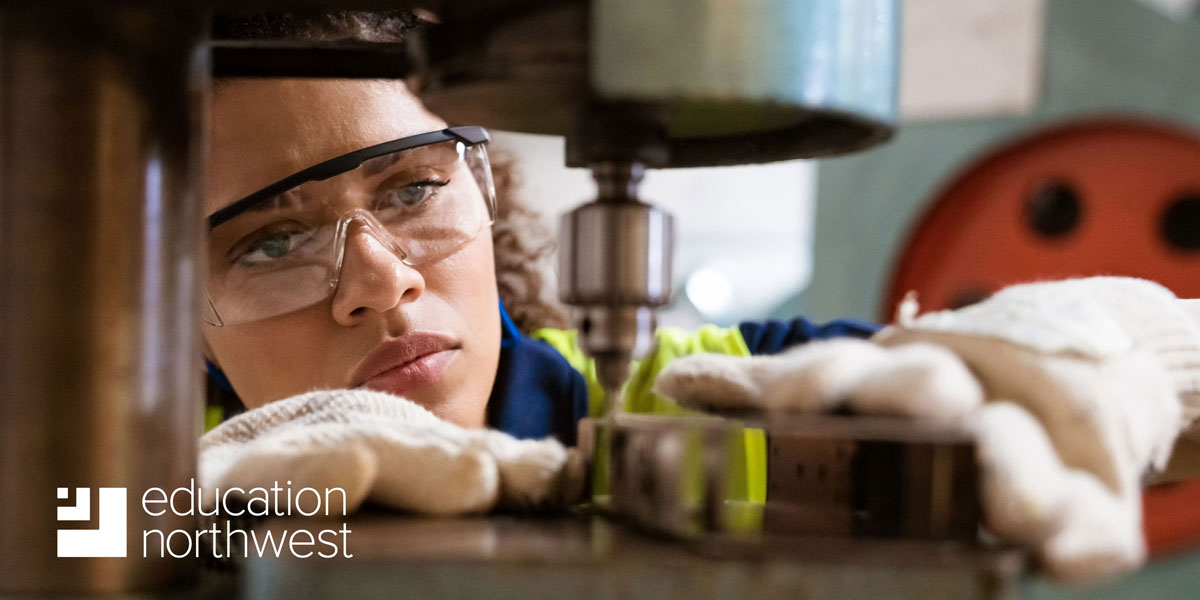 The COVID-19 pandemic and its impact on the labor market have caused significant anxiety for many college students and their parents. According to labor market analytics company Burning Glass, entry-level college hiring fell 45 percent since the start of the pandemic. This sharp decrease compounds existing concerns regarding higher education's return on investment. Is college worth the cost when there is no guarantee of a well-paying job upon graduation?
College graduates continue to out-earn their peers who earned a high school diploma, but there's a growing recognition that all students need better preparation for the workforce. With labor shortages in many high-skill, high-wage industries, post-college success depends more on the skills you've developed than the school you attended or the major you pursued.
What Is Career and Technical Education?
Today, more than ever, employers want to hire entry-level employees who can hit the ground running. This is where career and technical education (CTE) comes in. CTE is a broad term for education that combines academic and technical skills with the knowledge and training needed to succeed in today's labor market. CTE prepares students for the world of work by introducing them to workplace competencies in a real-world, applied context.
Compared to vocational school of decades past, modern CTE spans nearly every industry. In addition to traditional pathways like automotive repair and construction, today's CTE programs cover health sciences, engineering, entrepreneurship, computer science, sustainable agriculture, theater arts production, media, culinary arts, and many other fields.
In recent years, CTE has expanded dramatically in high schools across the country. Oregon's Portland Public Schools (PPS) exemplifies what this expansion can look like in a large, urban school district. In 2012-13, PPS offered 19 CTE programs across 12 high schools. In the current academic year, students can select from 65 CTE programs. These programs are popular and well subscribed. Furthermore, the programs are designed for all students: those who want to attend a four-year college, those who plan to combine work and learning at a community college, and those who intend to enter the labor market directly.
Building Pathways to Both College and Career
CTE doesn't replace academic learning; it complements traditional education by helping students at every level—middle school, high school, and college—develop practical skills. Research from the Regional Educational Laboratory Northwest found that Oregon students who enrolled in CTE in high school were just as likely to enroll in postsecondary education as their peers who did not participate in CTE. In addition, many high school CTE programs offer dual credit, helping students get a head start on postsecondary education by simultaneously earning high school and college credit.
High-quality CTE programming links secondary and postsecondary education in a sequenced series of courses, aligns curriculum with industry-validated standards, and provides hands-on, work-based learning experiences that enable students to apply their skills. CTE is not a "track" so much as a pedagogy; it contextualizes learning in real-word settings to spark students' creativity and sense of possibility.
The Future of CTE
CTE and career pathways may receive increased federal interest and funding in the coming years. President Biden's nominee for secretary of education, Miguel Cardona, is a technical high school graduate who emphasized the importance of career-related education in his Senate confirmation hearing. In addition, the

Education Northwest is working with school districts, community colleges, and four-year colleges and universities across the country to build seamless pathways from secondary to postsecondary education that lead to satisfying, living-wage employment. Over the next several months, our blog will feature different aspects of our work that highlight the many moving parts that contribute to strong CTE programs, smooth transitions from secondary to postsecondary education, and successful employment.

Building career pathways is a team sport. It requires the engagement and coordination of CTE teachers, guidance counselors, high school and college administrators, college faculty, employers, industry associations, and state education and workforce development agencies—all working together toward a common goal: to better prepare students for the complex and ever-changing world of work.
---
Interested in CTE Practitioner Training Modules? Education Northwest partnered with American Institutes for Research to co-author a series of self-guided training modules. These free modules strengthen your capacity to access, understand, and use CTE data and research as well as conduct your own research, particularly causal research.