Resources
Resources for Building Teacher-Student Relationships
February 2018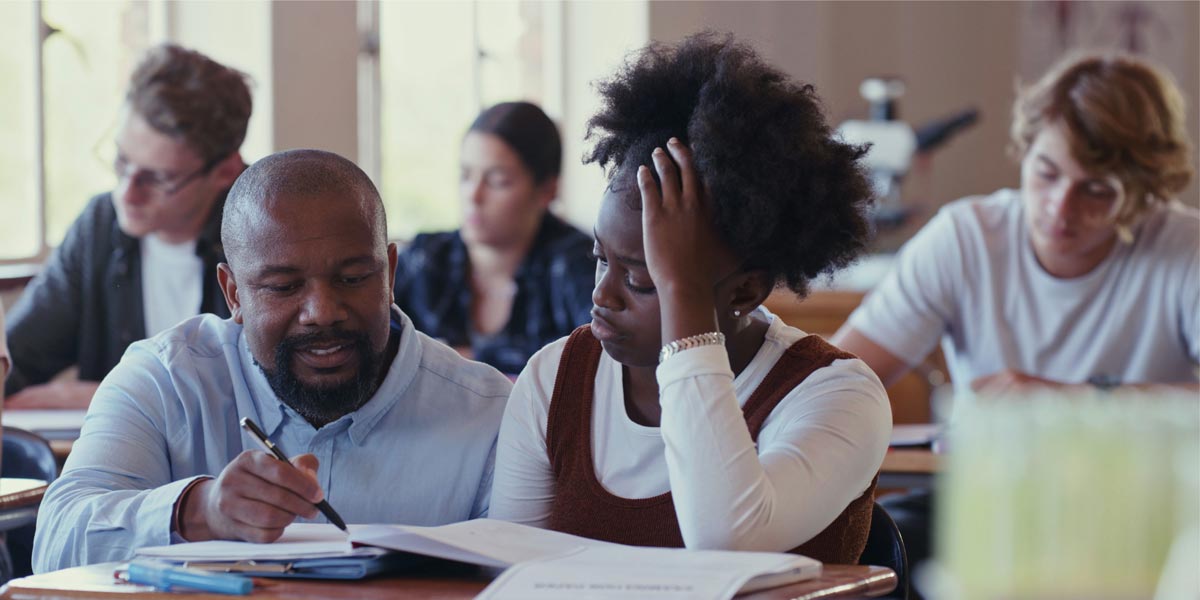 A collection of blog posts, videos, education research, and websites to help teachers strengthen their relationships with all their students.
From Education Northwest
Additional Resources
In this video from Race Forward, eight young men talk about how they navigate around implicit bias in the classroom—and as they build their lives.
These learning modules are designed to strengthen teacher-student relationships. The modules can be taken alone or together depending on the needs of your organization and include video presentations, reflective questions and interactive components.
Research-Based Resources and Interventions
This study looks at the adaptive behaviors that high-achieving Black students employed in a predominantly White high school to maintain school success and a positive racial self-definition. Findings indicate that students experienced racial microaggressions in the form of sometimes being spotlighted because of their race (i.e., racial spotlighting) and sometimes being ignored because of their race (i.e., racial ignoring). Students managed these experiences by utilizing a variety of resilient strategies that represent varying degrees of resistance. The article concludes with implications for teacher education and creating culturally inclusive school and classroom environments.
There is increasing concern about rising discipline citations in K–12 schooling and a lack of means to reduce them. A brief intervention aimed at encouraging an empathic mindset about discipline halved student suspension rates over an academic year. This intervention, an online exercise, can be delivered at near-zero marginal cost to large samples of teachers and students. These findings could mark a paradigm shift in society's understanding of the origins of and remedies for discipline problems.
This article introduces culturally responsive classroom management as a pedagogical approach to guide the management decisions that teachers make and shine a light on the negative consequences of classroom management on students whose behaviors do not conform to middle-class norms. While the article summarizes a wealth of research on student discipline in schools, it focuses on the challenge of classroom management when students and teachers come from different cultural backgrounds.
Scholars have amassed robust evidence that teacher-student relationships are associated with a multitude of valued student outcomes. Drawing from a sample of 922 middle and high school students and their 127 teachers in six different schools, this article describes the development of a multifaceted approach to measuring teacher-student relationships at the secondary level that addresses four complexities of these relationships. It also focuses on four schools to examine how this measure predicts a series of student achievement, affective, behavioral, and motivational outcomes. Lastly, it assesses the promise of teacher-student relationships as a focal point for future interventions.
Related Websites
Collaborative for Academic, Social, and Emotional Learning (CASEL) provides resources, tools, and research on high-quality, evidence-based social and emotional learning (SEL) for grades PreK-12 students. Topics include suggested frameworks for SEL, teaching approaches, and lessons learned from SEL professional learning communities.
The National Center on Safe Supportive Learning Environments provides tools, research reports, and technical assistance events on school climate, preventing and responding to discriminatory behavior at school, responding to trauma in K–12 schools, social-emotional learning, and resilience.
The Technical Assistance Center on Positive Behavioral Interventions and Supports provides research, professional development resources, and tools to support implementation of positive behavioral interventions and supports in schools. The website also provides information on training and technical assistance resources to incorporate equity in school discipline practices.
The U.S. Department of Education's Institute of Education Sciences provides practice guides, intervention reports, single study reviews, and quick reviews of recent research on many topics relevant to early childhood and K–12 education. The website includes products and services provided by the What Works Clearinghouse, the Regional Educational Laboratory Program, the Education Resources Information Center, and national data resources.